Gutter Guard Installation in Auburn & Opelika, AL
Gutter Guard Installation
Tired of cleaning your gutters every year? But don't want to spend $25,000+ on LeafFiler or LeafGuard? We don't blame you!
After lots of trial and error & countless hours of testing and research, I've decided to install two types of gutter guards. The first one is Bulldog Gutter Guards, which come with a 25 year clog-free warranty. The second one is Champion Gutter Guards, which come with a life-time clog-free warranty.
There are far too many bad reviews about the top dogs like LeafFilter, LeafGuard, & Gutter Helmet to consider accepting the huge price difference. I can install the above guards for a fraction of the price of the national brands, and with better customer service and performance.
If you'd like a local company to come out and give you a quote for gutter guard installation, I'd love to hear from you! Just fill out the quote request form and I'll reach out ASAP to find a good time to meet you.
Oh, and don't feel like you HAVE to have gutter guards installed. I have lots of customers that would rather get their gutters cleaned 1-2x per year. You can read more about my gutter cleaning process here. 
Bulldog Gutter Guards (25 Year Clog-Free Warranty)
Bulldog Gutter Guards are, in my opinion, the BEST VALUE guard on the market. Unless you have lots of pine trees or if you are worried about roof grit collecting over the years, this is my go-to guard.
Pros:
It keeps out practically everything except very small debris.
It accepts any amount of rainfall, even in the valleys of your roofs.
You can't see it from the ground.
The guard will last forever. After 25 years or so, it's recommended to clean underneath the guards, and you'll be good as new again!
It strengthens your entire gutter system, as it's screwed into the gutter AND the fascia!
It doesn't interfere with your roof.
Cons:
The guard sits flat, so some debris will collect on top of the guard. Water still passes through just fine, though.
It's recommended to have the guards maintained every year from the ground with an extension pole (a complimentary gutter guard brush will be included).
The guard allows roof grit (shingle debris) into the gutter. Pine-straw theoretically could also enter the gutter, although it rarely happens.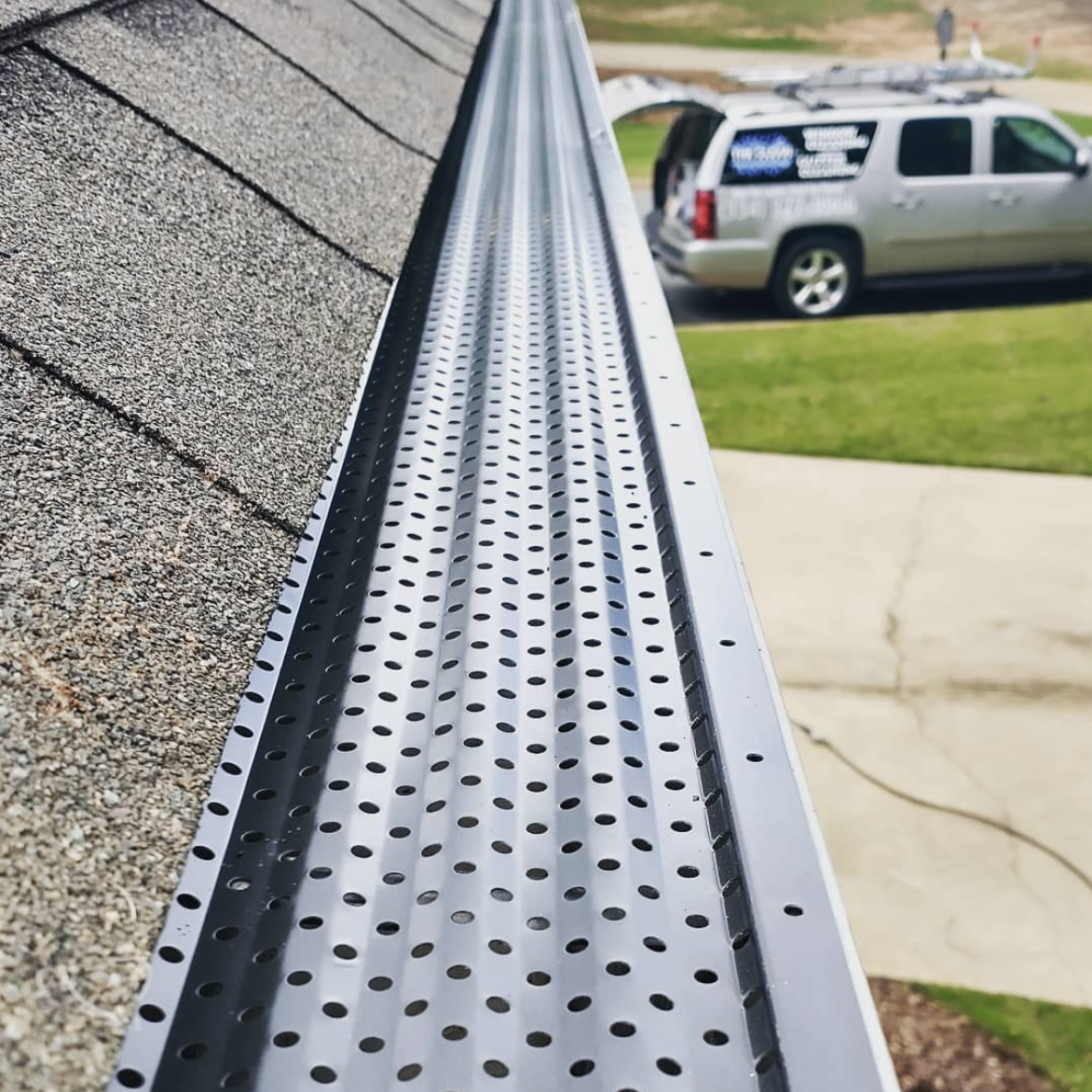 Champion Gutter Guards (Lifetime Clog-Free Warranty)
Champion Gutter Guards are, in my experience, the BEST guard on the market if you want to limit maintenance.
This guard is very similar to LeafFilter, but MORE AFFORDABLE, STRONGER (aluminum frame instead of plastic), and MORE EFFECTIVE (less tightly woven so accepts more water).
Pros:
It keeps out EVERYTHING except water. That includes roof grit and pine straw.
It accepts a large amount of rainfall, but not quite as much as the Bulldog.
You can hardly see if from the ground.
The guard comes in two varieties.

One is mounted to the fascia (like the Bulldog Guard). This style accepts more water but debris is more likely to settle on top.
One goes underneath the shingle. This style is lower maintenance as debris falls off easier, but you will experience slightly more overflow in a huge rainfall.
Cons:
In a huge storm, you may experience a small amount of overflow (most installers won't tell you this). This problem is alleviated by adding splash guards and a slightly "larger" micromesh where needed.
It's recommended to have the guards maintained every year from the ground with an extension pole (a complimentary gutter guard brush will be included).
The fascia-mounted style will collect more debris on top of the guard, while the under shingle style guard will have a little more overflow in a heavy rain.
Some Pictures From Our Previous Gutter Guard Installation Jobs
The Clear Difference vs National Brands
I've seen them all, and Bulldog and Champion Guards are simply the best. I stand by the products, as I literally have them installed on my house's gutters. Don't get scammed by LeafGuard and their insane prices.
Bulldog Gutter Guards and Champion Gutter Guards
Best Value Options
I've installed (and cleaned under) practically every gutter guard on the market. Without a doubt, these guards are the best bang for your buck. My price includes removing old guards (if needed), cleaning, flushing, and repairing the gutters, as well as the gutter guard installation. I often price jobs around $1,500 that LeafFilter and LeafGuard quoted for closer to $12,000.
Great Design That Will Work & Last Forever
These Guards do an incredible job of keeping practically everything (except water) out of the gutters. While some debris will sit on the guard for some time, a light breeze will blow practically everything off when the debris is dry.
Our guards are screwed down to the lip of the gutter, so they won't be going anywhere no matter the weather or what falls on them. They hardly ever need to be cleaned underneath. I've seen underneath these guards that were installed 20+ years ago (according to customers) and hardly had any debris in them.
Cheaper guards simply allow too much debris in AND are not screwed down properly. You wouldn't believe the number of times that cheap "snap-in" gutter guards get blown away in a good storm, or debris simply weighs them down and makes the gutters clog faster than ever. It only takes one missing/damaged guard to cause an entire gutter to fail.
Local Small Business With Incredible Customer Service
You'll be supporting a local small business, not a nation-wide chain. Plus, you can't beat the customer service of our local small business. You have a question or concern about our service? You can pick up the phone and call ME, Marshall Brown. I'll make it right.
I do all ladder-related work myself, so you know it will be done right the first time. You can't say the same about LeafFilter of Gutter Helmet. Just look at their horrendous reviews all over the internet. They don't keep their word, and their warranty is practically worthless.
I'd like to think my reviews speak for themselves!
Super Easy to Clean
These guards are easy to clean on top of AND underneath when needed. A simple swipe from the ground with a gutter guard brush (included for each install) and the guard is clear of debris again.
Cheap, mesh guards are nearly impossible to clean without hand-picking all debris one at a time (darn you, pinestraw!). Trust me: I do it all the time when other customers have these guards.
Proprietary Gutter Guards (LeafFilter & LeafGuard)
Outrageously Expensive
LeafFilter, LeafGuard, and Gutter Helmet are often times 10x the price of my service, often times even more. I've had multiple installations that were completed for under $2,000 that received quotes from these companies for $25,000+. Not kidding or exaggerating.
It's literally the biggest scam that I've ever seen first-hand. You can get an entirely new gutter systems 10 different times AND have it cleaned 50 times for their price.
 NOT Clog-Free Like They Claim
You may think based on the price that these are perfect guards that never need to be cleaned. You'd be wrong. Look up all of the terrible reviews online. I've seen first hand how clogged they can get, and how impossible they are to get cleaned underneath.
Any company that claims their guards are "clog-free" is blatantly lying to you to convince you to buy their guards. Oh, and good luck getting the company to come back out to clean them for free, even after you spent $20k+ on them.
Lack of Customer Service
Sure, the big companies say they have a lifetime warranty and a satisfaction guarantee policy. Do a few minutes of research and you'll see that's not the case. Without a local presence, they aren't too worried about unhappy customers and their bad reviews.
Oh, and they also pray on the elderly and push you HARD into signing a contract on the spot. Their starting price is always INSANE, and then offer a "one-time" only 30% off price to come down to a still-insanely-high price.
Nearly Impossible To Clean
These proprietary guards are nearly IMPOSSIBLE to clean underneath when debris or bird nests clogs up downspouts. You'd have to practically uninstall the entire system to clean them out, as you can't simply unscrew small sections or fit your hand in anywhere.
Unfortunately they don't honor their warranties, and so you'll be stuck paying a VERY HIGH price to get someone to clean these terribly designed guards.
Our Process for Gutter Guard Installation
It's nice to know what to expect.
First, I'll come by to meet you and give you a quote. This picture to the left is my wife. I am less attractive and not a female.
I'll bring along a sample of Bulldog Gutter Guards and Champion Gutter Guards, and we'll talk about the pros and cons of each. I want to make sure you make an informed decision!
Next, we can schedule the best date and time for you. You don't necessarily have to be home for us to install your gutter guards, but you might wish to be. The average gutter cleaning and gutter guard installation job takes about 3-5 hours. That's it!
Once the job is complete, you can pay via cash/Venmo/credit card/check. If you are not home when we complete the job, I'll happily send you an invoice with payment instructions.
My Service Area
My normal service area for The Clear Difference is Auburn, Opelika, and the Lake Martin Area.
However, I'm always happy to travel outside that range for a gutter guard installation job! While I won't be able to give in person quotes for further away jobs, I can give an accurate quote based on Google Earth, Google Maps, and pictures that you provide.
Auburn, AL
Opelika, AL
Dadeville, AL
Jackson's Gap, AL
Eclectic, AL
Alex City, AL
Salem, AL
Montgomery, AL
Birmingham, AL
Columbus, GA
LaGrange, GA
Atlanta, GA