Gutter Cleaning in Auburn, AL
What Sets The Clear Difference Apart
We do it the RIGHT way, we FLUSH gutters, and we send before/after pictures EVERY time!
Gutters are the most underrated part of maintaining the value of your home. Gutters that don't flow properly can lead to all sorts of damage, most specifically foundation damage. You probably already knew that though. So let's talk about what you might NOT know.
There are tons of ways to clean gutters. Some use vacuums. Others use pressure washer attachments. The problem? Vacuums don't ensure a proper job, and pressure washers can damage shingles.
What do we do at The Clear Difference?  We do it the right way. We safely use ladders to ensure that we get 100% of the debris out of the gutters. We also ensure that all downspouts are working properly by flushing them with water or air. This is the only method to ensure the job is done correctly the first time.
Oh, and we send you before & after pictures for every single job. That way, you can rest assured that the gutters are truly clear again. And, you can see how bad the gutters really were. Check out our instagram account to see lots of before and afters for gutter cleaning.
And if you are interested, we'd be happy to install gutter guards on your home after the gutters are spotless. We install two different guards: one perforated aluminum guard called Bulldog, and one micro-mesh guard called Champion.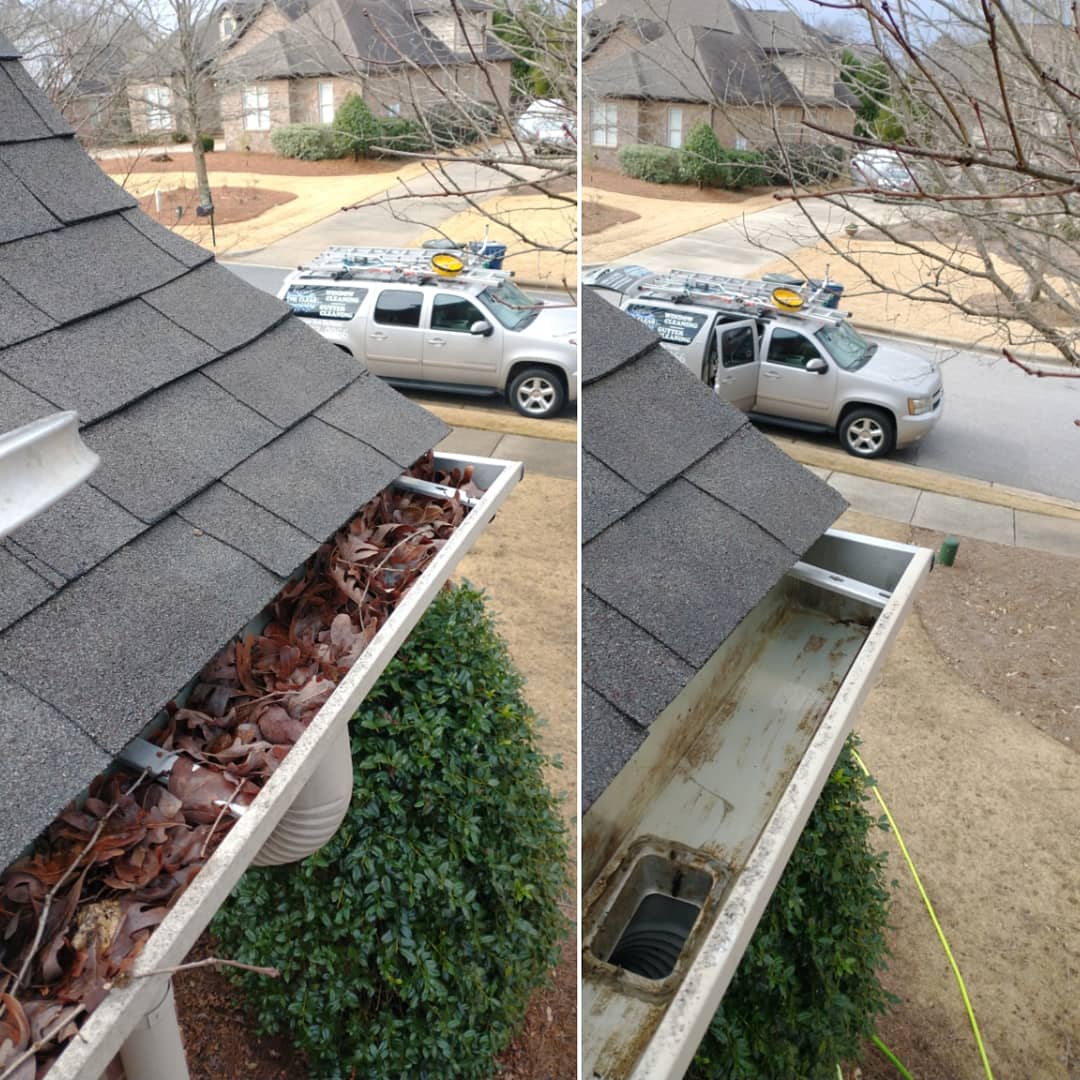 What to Expect When You Hire The Clear Difference to Clean Your Gutters
You won't have to be at your property for us to clean your gutters. We can gladly complete the job and send an invoice with payment instructions.
Quick Summary
Estimated Time: Roughly 1-2 hours for an average home, depending on how bad the gutters are, how high the gutters are, and how difficult to reach the gutter are.
Estimated Manpower: 1-2 professionally dressed men
Method: Using ladders with stabilizers to protect us and your gutters. Removing debris by hand. Flushing downspouts to ensure proper flow.  Then we send before/after pictures of the gutters.
Gutter Cleaning Pictures
You may see some pictures of our related services, too. We also repair sagging gutters and install Shur-Flo Gutter Guards!
The Clear Difference
Licensed & Insured
We are licensed to operate in Auburn and Opelika, and we have a $1 million general liability insurance policy. We don't expect to have to use it, but it's there if we need it.
Simple Scheduling
Use our online booking tool or just call us – whichever one is easier for you. We'll answer the phone every time.
Communication
You'll receive appointment confirmation, "on the way", ETA, and "job completed" text messages every step of the way. You'll even get a picture of your gutter cleaner to know who to expect. If we need to reschedule (due to rain), we'll let you know ASAP and reschedule.
Timely
We tell you what time and day we are coming. If anything comes up, we reschedule in a timely manner!
Our Competition
Not Licensed or Insured
Most of our competitors are properly licensed to do business in Auburn or Opelika. Many of them aren't even properly insured, which increases the risk to you and your property.
Hard to Reach
Most companies are hard to reach. You are trying to give them money in exchange for your services, yet they struggle with picking up the phone.
Lack of Communication
You'll never know when they are coming, what they look like, who to expect, etc.
Timely… Maybe?
You won't know for sure when they will show up. You'll be sitting around for hours at a time, unable to leave your home because you don't want to miss them.
Our Gutter Cleaning Articles
Gutter Cleaning in Auburn, AL & Opelika, AL Most gutter cleaning companies in Auburn & Opelika, AL...
read more →
April 28, 2020