Clean gutters that properly flow away from your foundation are IMPERATIVE to avoiding costly repairs. Foundation repairs have caused many home owners thousands of dollars, all of which could have been avoided from a simple gutter cleaning.
Gutter cleaning can be done in many different ways: ladders and your hands, pressure washing attachments, blower attachments, and vacuuming them out with long poles. We choose to use ladders and our hands, for two reasons.
It's the only professional way to do it. Other methods won't allow us to be sure we completed the job correctly. We also need ladders to be able to properly flush the gutters and downspouts to ensure proper flow.
It's less messy. Pressure washing and blower attachments blow the debris all over your home. We are trying to CLEAN, right? Not just make it messy somewhere else? I thought so! With ladders and or hands, we can easily bag the debris and properly dispose of everything.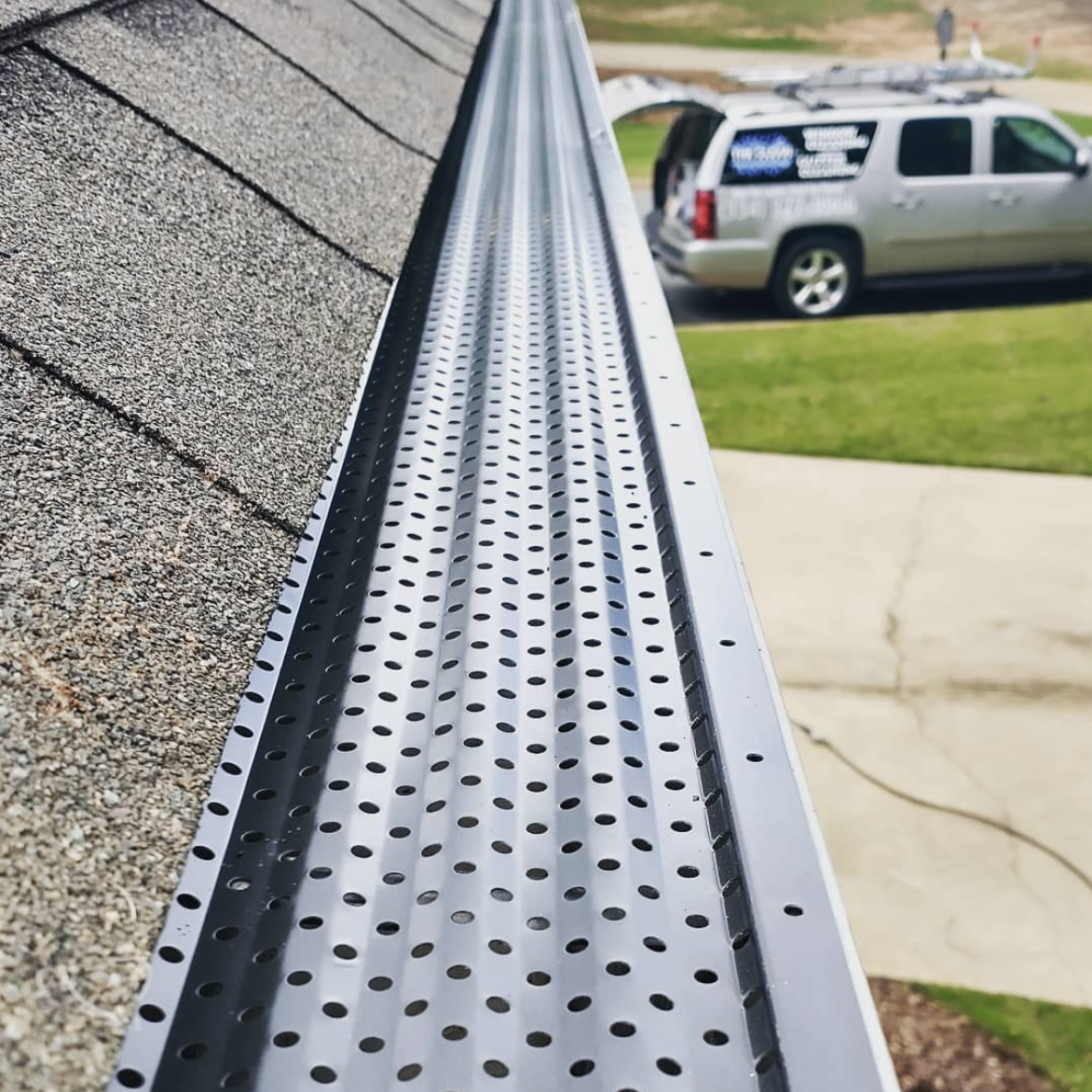 Gutter guards are great at ensuring that your gutters are flowing properly without having them cleaned out 2-3 times per year. For some properties, gutter guards are simply a MUST.
No gutter guard is perfect, though. They all require some maintenance, such as brushing off the guards from the ground every year.
I offer two different gutter guards: Bulldog Gutter Guards (with a 25 year clog free warranty) and Champion Gutter Guards (with a lifetime clog free warranty).
Don't get suckered into spending $25,000+ on gutter guards from LeafFilter, Gutter Helmet, or LeafGuard. I offer better customer service and at a far more competitive price. My price includes gutter cleaning, gutter repair, gutter flushing, and gutter guard installation.
Protecting your roof to extend its life should be a high priority in maintaining the value of your home. Our roof cleaning can remove nearly ALL black stains and moss from your roof.
Our process is pretty painless: we spray our roof solution using a low pressure pump, and we reapply if necessary. We also do a lot of small things that often go unnoticed, though, like: spraying your vegetation with water to ensure they are protected from our mix and ensuring our hoses don't interfere with your landscaping.
The secret to our roof cleaning = low pressure + the perfect solution. That's it! High pressure (like those that use pressure washers on roofs) is a HUGE mistake on roofs, as they typically lead to damage and terrible stripes/lines.
Most people LOVE Christmas, but dread decorating their home for the holidays. We are here to help!
We install custom-fit LED C9 Christmas Lights and beautiful lit wreaths. Our service includes custom design, installation, service calls, take down, and storage. Our color options include warm white (traditional), pure white, red, and green.
If you are interested in a quote, I'd be happy to send over a personalized quote with a mock-up design of the front of your home.
We clean most windows using pure water, poles, and abrasive attachments. We take water and put it through our de-ionization tank, removing all ions that could cause streaks. Then we simple scrub and rinse your windows with our brush that is continuously spraying pure water. Windows dry streak-free every time!
A huge benefit or our window cleaning technique, as opposed to most window cleaners' techniques, is that we cleans all frames and sills, not just the glass. We can also remove all screens, clean them, and replace them if you'd like.
Soft washing is the smart way to clean your home. The dumb way? Pressure washing the entire thing. Soft washing uses low pressure, just like our roof cleaning. So how does it work?
Our solution is sprayed on to your home (siding, soffits, fascias, garage door, shutters). We let it dwell for 5-10 minutes, letting it do it's magic of killing all stains, mildew, algae, moss, etc. And then we rinse it off. Same exact process as the roof cleaning. But now we have a lot more focus on protecting your nearby vegetation, as the overspray could damage your plants. Therefore, we have one man spraying and other spraying water on all plants.
Soft washing a home is much less expensive AND effective than a paint job. A paint job is just going to cover up the algae/stains. Our mix, however, actually kills the algae and moss, making sure it won't come back anytime soon. So if you are not happy with the exterior of your home in Auburn or Opelika, Alabama, call us to clean your home. Don't call those expensive painters just yet.