Gutter Cleaning in Auburn, AL & Opelika, AL
Most gutter cleaning companies in Auburn & Opelika, AL do NOT flush gutters.
That's like a policeman putting handcuffs on just one hand of a robber. That's like a chef cooking chicken until there is just a little bit of pink in the middle. That's like a CPA completing your tax return and not signing it. That's like an arborist cutting a huge tree down and hitting the road. That's like a professional baseball player hitting a homerun but not running the bases.
I think we made our point.
At The Clear Difference, we clean gutters the only correct way possible – via ladders. We need to get up there to see what happening. We need to see if the gutter is flowing properly. We need to make sure that we are doing a great job, which is impossible to do from the ground. Our ladders allow us to reach up to 40 feet. If we need to go higher, we can access a lift.
To protect ourselves and your property, we ALWAYS use ladder stabilizers and ladder levelers.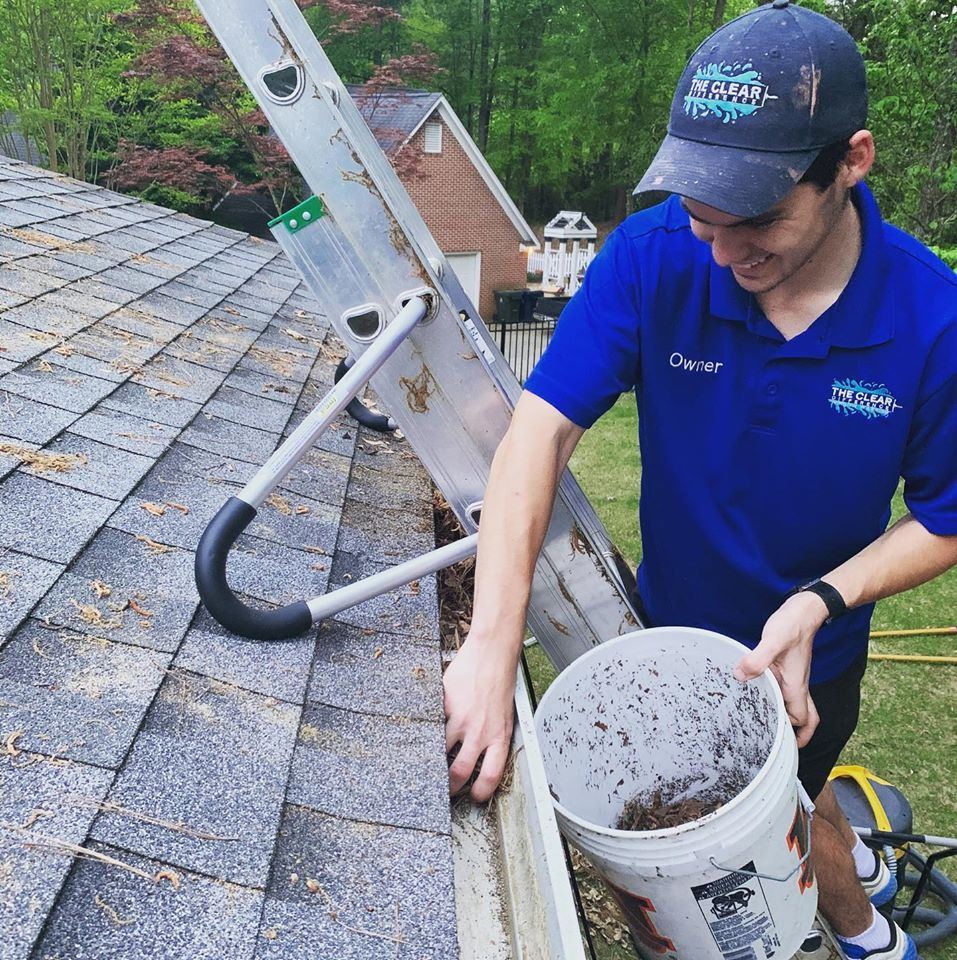 The Clear Difference's Comprehensive Gutter Cleaning Process
The Clear Difference's gutter cleaning process isn't just about removing debris from the gutters. Our gutter cleaning process includes inspection, debris removal, flushing, testing, unclogging downspouts, and repairs if necessary. We have all of the equipment needed to repair gutters on the spot. Leaking gutters? We can fix that. Sagging gutters? We can fix that. Many gutter companies don't do repairs – so you'd be left having to start the process again of finding someone that you trust.
Flushing Gutters & Downspouts
Gutters need to be flushed. That's the final step of a PROFESSIONAL gutter cleaning from my company, The Clear Difference. It's not always the debris that is actually IN the gutters that's causing the clog or stoppage. The point of gutters is to move water AWAY from your foundation. That's not going to happen if the downspouts are clogged with debris.
Some gutter companies don't even get up on ladders to see the gutters. How would they know if they removed all of the debris? How would they know if the gutters were still full of standing water? HOW WOULD THEY KNOW??
Our Pricing 
We'll be upfront here: we are not the cheapest gutter cleaning company in Auburn, AL or Opelika, AL. We do things right. We have proper licenses for operating in Auburn & Opelika Alabama, as well as a $2 million general liability insurance policy, which can be pricey. We spend extra time inspecting, flushing, unclogging downspouts, and repairing, which we have to account for. However, our pricing is competitive, and a whole lot better than a ladder fall and the associated hospital bills. 
Don't "save money" by choosing a gutter cleaning company that doesn't even flush your gutters. Make the right choice from the start. We'll show you The Clear Difference compared to the rest.